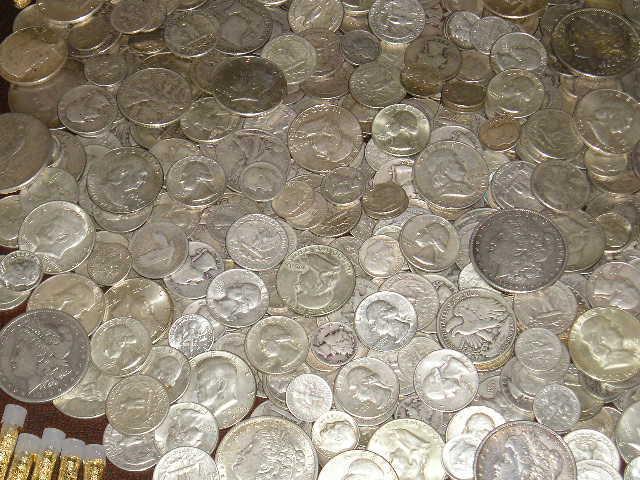 Price: 19.83 USD
Coin Details:
1/2+oz 90% PURE SILVER US COINS FREE S/H+ BONUS MERC DIMES NICE MIXD DATES READ
PLEASE READ THE DESCRIPTION… THIS SALE IS FOR A 1/2 OZ. LOT OF 90% SILVER U.S. COINS. YOU DO NOT GET THE WHOLE PILE OF SILVER COINS IN THE PICTURES. EACH ORDER IS OVER ONE HALF (1/2) U.S. OZ OF SILVER COINS. THIS ORDER DOES NOT INCLUDE ANY OF THE GLASS VIALS OF SOUVENIR GOLD LEAF FLAKES. 
1/2 oz 90% SILVER U.S. Coin Lot
No Junk ~ 
ALL Nice 90% SILVER U.S. Coins
Free Shipping… Buy more than one!
You will be pleased with the quality of these coins, Guaranteed No JunkFREE Silver Coin Offer!

These orders have free s/h, and I save on shipping when you purchase multiple lots
that I can ship in the same transaction… So I will thank you by adding

Bonus Silver Coin(s) to each Multiple lot order!            If you buy….
2 Lots – Get 1 Mercury Dime FREE

3 Lots – Get 2 Mercury Dimes FREE

4 Lots- Get1 Mercury Dime &1 Washington Quarter FREE
5-7 Lots – Get 1 Walking Liberty Half FREE! (Just 1 coin)
8 Lots- Get 1 WL Half Dollar, 1-Wash Quarter & 1Mercury Dime….. FREE!!

IN EACH LOT YOU WILL RECEIVE;
1/2 standard ounce of 90% Silver United States Coins.
Each Lot will be weighed individually and will be at least 1/2 oz. (14.25g) 

All coins will be 90% Silver in good, average circulated condition. YOU WILL NOT RECEIVE

No bent or holed coins.
No slabs, culls or coins without readable dates.
YOUR ORDER WILL BE EITHER 2 QUARTERS & A DIME, OR 1 HALF DOLLAR & 1 DIME. YOU WILL RECEIVE A MIX OF NICE COINS, SELECTED FROM A LARGE PILE OF WALKING LIBERTY, FRANKLIN & KENNEDY HALF DOLLARS, WASHINGTON QUARTERS, MERCURY & ROOSEVELT DIMES. ALL COINS WILL HAVE NORMAL WEAR & CLEARLY VISIBLE DATES.
SOME OF THE MORE RECENT EARLY 60's & 1950's COINS SHOW LITTLE OR NO WEAR. YOU WILL RECEIVE ALL SILVER COINS FROM 1964 & EARLIER, SOME OF THESE ARE QUITE OLD! 
EACH LOT WILL BE A LITTLE OVER 1/2 OZ (14.5g) OF 90% PURE SILVER US COINS. SINCE IT'S 1/2 OUNCE OF 90% SILVER COINS, IT IS A BIT LESS THAN ONE HALF OUNCE OF .999 PURE SILVER PER ORDER. 
THIS IS A GREAT WAY TO MAKE SMALL INVESTMENTS IN SILVER… IT'S IN SHORT SUPPLY & DEMAND HAS BEEN RISING. WILL ONLY SHIP IN THE USA, NO INTERNATIONAL BUYERS PLEASE! 
THANKS FOR LOOKING & SEE MORE ITEMS IN MY OTHER AUCTIONS.