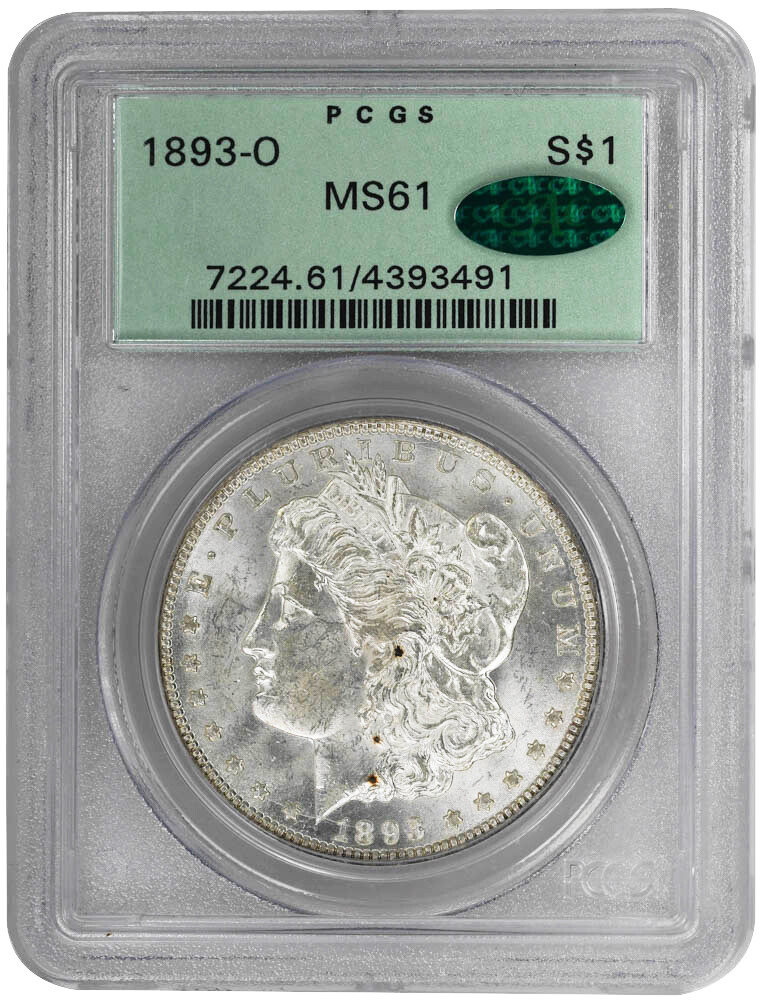 Price: 5,775.00 USD
Coin Details:
1893-O $1 Morgan Dollar PCGS MS61 CAC Old Holder Rare Coin
1893-O $1 Morgan Dollar PCGS MS61 CAC Old Holder Rare Coin
TANGIBLE INVESTMENTS IS COMMITED TO EXCELLENT CUSTOMER SERVICE.
PRODUCTS WE LIST ARE GUARANTEED TO BE 100% AUTHENTIC
FREE SHIPPING FOR ALL JEWELRY, SMALL COLLECTIBLES AND COINS SALES
WE WORK HARD TO ACCEPT AS MANY OFFERS AS POSSIBLE
WE OFFER 30 DAY RETURNS, FREE OF CHARGE AND HASSLE FREE
DESCRIPTION
1893-O $1 Morgan Dollar PCGS MS61 CAC
Old Holder
Certification: 7224.61/4393491
We are always interested in your Best Offer!
Call for return shipping, free of charge and hassle free.
PLEASE CONTACT US WITH ANY QUESTIONS
ABOUT US
Tangible Investments, Inc of Laguna Beach, California specializes in Rare Coins, Gold & Silver, Estate Jewelry, Diamonds, Art, Antiques and Collectibles. We have a national presence in the numismatic industry, we trade PCGS and NGC certified rare coins, uncertified collectible coins, and just about any type of bullion product. In terms of numismatics, we specialize in U.S. Morgan and Peace silver dollars, and early American type coins as well as ancient coins, tokens/medals, and everything in between. Tangible is a member of the Professional Numismatists Guild (PNG), the American Numismatic Association, and many other industry groups.
The owner of Tangible Investments, Silvano DiGenova, has been involved in the rare coin and precious metals business for over 40 years.
He was fundamental in two dramatic changes that greatly assisted investor's, certified grading and electronic trading of coins and precious metals. (Co-founder of both the Professional Coin Grading Service and Certified Coin Exchange). He is committed to share his expertise with others to help the private sector in placing coins at great prices.
OFFERS ACCEPTED
We are best known for our razor-thin buy/sell spreads. Everything that we sell, we also purchase. Since we make a two-way market, our buying and selling prices are very close to each other, however on items we allow best offers, we do our best to consider all reasonable offers if possible.
SHIPPING
Orders are shipped via Priority U.S. Mail, UPS, FedEx or another common carrier, at our discretion. All our shipments are insured by the carrier or with third party insurance coverage. We will only ship to an eBay confirmed address with no exceptions.
If your order is lost or damaged in transit, please contact us immediately for us to pursue a claim with our insurance company. Once the claim is filed, we reserve the right to re-ship your items or refund your money at our discretion.
PAYMENT
We accept payment though eBay Payments however if you are interested in paying direct or to set up a payment plan please send us a message through eBay, or give us a call.
RETURNS
We are confident that you will be happy with your purchase however, if not, we do offer a generous 30 day return privilege on all our items except bullion related items or if specifically notated on the actual listing. The return policy applies to items that are returned in the exact same condition as received by the buyer. We are so committed to our customers that we typically pay for the return shipping. All items should be returned to our physical location at Tangible Investments, Inc. 1910 S Coast Hwy, Laguna Beach CA 92651.