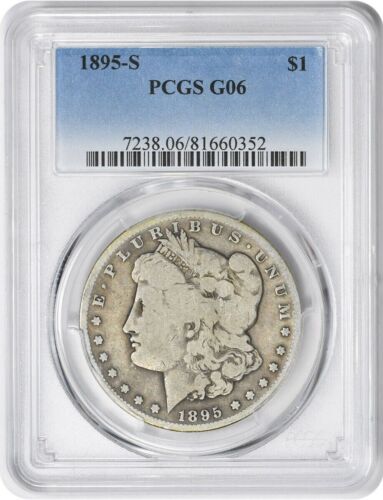 Price: 599.99 USD
Coin Details:
1895-S Morgan Silver Buck PCGS G 06, very uncommon.




THE MORGAN DOLLAR WAS NAMED AFTER IT'S DESIGNER, GEORGE T. MORGAN.  COINAGE OF THE SILVER DOLLAR WAS SUSPENDED AFTER 1904, WHEN DEMAND WAS LOW AND THE BULLION SUPPLY WAS EXHAUSTED.  UNDER PROVISIONS OF THE PITTMAN ACT OF 1918, 270,232,722 SILVER DOLLARS WERE MELTED.  SOME MORGAN DOLLARS ARE A LOT HARDER TO FIND THAN COLLECTOR'S REALIZE, THAT'S A LOT OF MELTED DOLLARS!  MORGANS ARE ONE OF THE MOST COLLECTED US COINS AND A GREAT PART OF AMERICAN HISTORY.
THIS COIN IS AN 1895-S MORGAN SILVER DOLLAR PCGS G 06 VERY RARE COIN, PLEASE LOOK AT IT.
THE WINNER WILL RECEIVE THE COIN HAS SHOWN IN THE PICTURE.
                               THE RETURN POLICY IS 14 DAYS SINCE THE DAY OF THE SALE, AND WE WILL 
                                                 DEDUCT 5% OF  THE WHOLE PRICE FOR A RETURN.

 
                                              WE WILL LEAVE A POSITIVE FEEDBACK AFTER YOU.                                                                                                                                 
                               IF THE PACKAGE WAS DAMAGED, THE RETURN POLICY WOULD BE CANCELLED.                            

                                                               WE DO NOT SHIP OUTSIDE OF THE US.