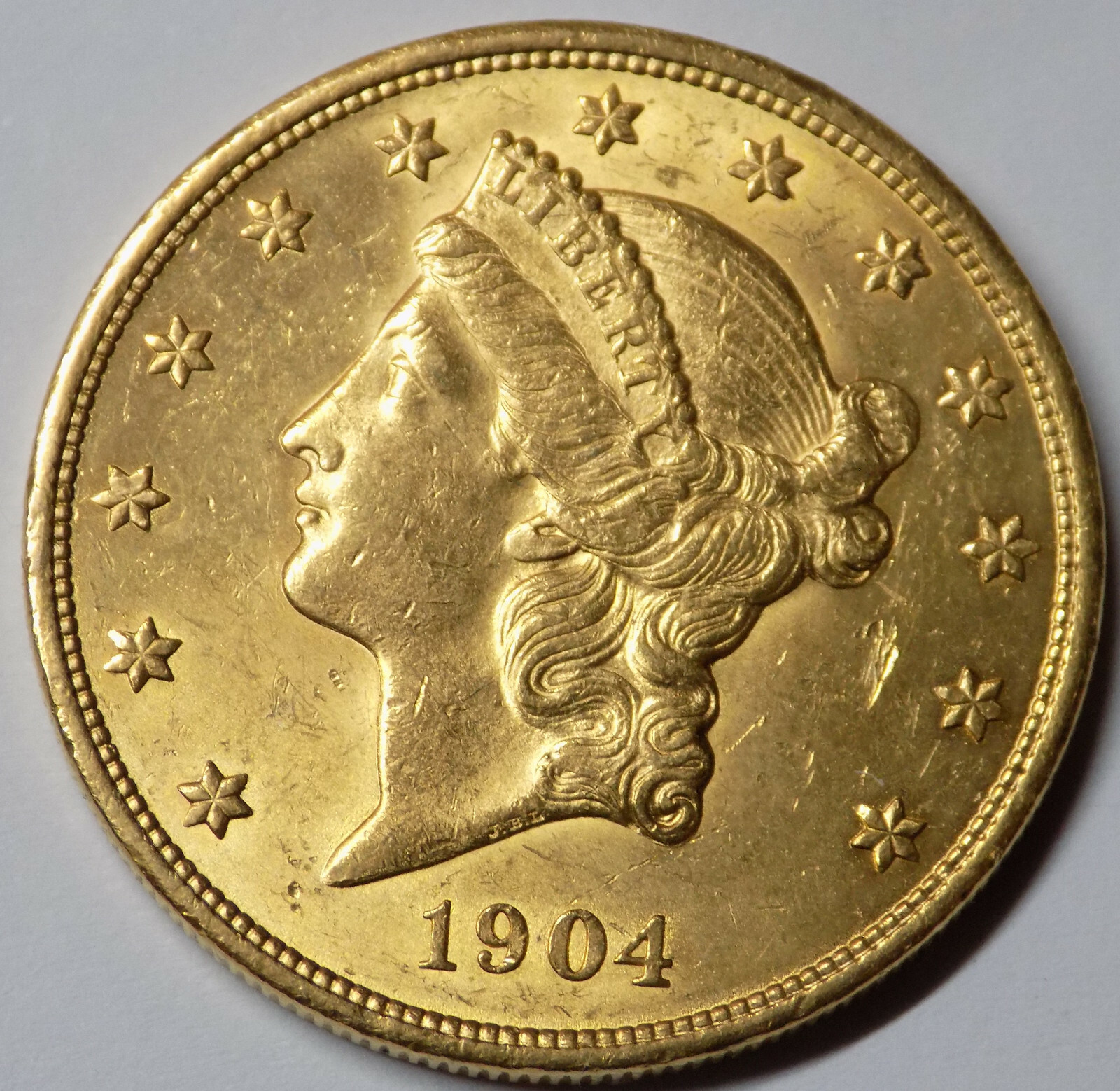 Price: 2,100.00 USD
Coin Details:
1904 $20 Liberty Head Double Eagle gold coin Uncirculated details, wiped
PLEASE EXAMINE PICTURES CLOSELY. THEY ARE HIGH RESOLUTION AND MOST CAN BE BLOWN UP NICELY ON A LARGE SCREEN. BEFORE ASKING US FOR BETTER PICTURES, PLEASE CHECK ON A DESKTOP / LAPTOP SCREEN RATHER THAN YOUR MOBILE SCREEN.

WE WILL SHIP ONLY TO THE ADDRESS IN THE EBAY SALES RECORD. WE WILL NOT SHIP TO ANY OTHER ADDRESS. SO PLEASE ENSURE THAT YOU ENTERED THE CORRECT SHIPPING ADDRESS WHEN YOU COMPLETE YOUR PURCHASE.

CAREFULLY READ THE TITLE, ITEM CONDITION, AND DESCRIPTION BELOW; ENSURE YOUR PURCHASE IS INTENDED.

1904 $20 Liberty Head Double Eagle gold coin Uncirculated details, wiped

Dbaycollectibles is run by a coin dealer in sunny Palm Beach County, Florida. We deal in all US and foreign rare coins, United States and Confederate States paper money, and gold silver and platinum bullion. We specialize in collectible silver like art bars, premium private mint pieces, and modern lower mintage bullion coins.
The contents of our listings are guaranteed authentic, backed by our reputation, our eBay feedback, our return policy, and eBay's Money Back Guarantee to buyers.
We do our best to create listings with accurate photos and descriptions for items priced for sale lower than all other comparable eBay listings from other sellers. We want our potential clients to become repeat clients so we will never purposely hide a problem with a given piece, and we will usually go out of our way to describe negative issues with the piece. We try to include all relevant information, but if you think we missed something important, let us know.
As coin grading is subjective and as done by the professionals often arbitrary in our opinion, consider that our stated opinion and the opinion of third party certification services (PCGS, NGC, ANACS, ICG for coins) are just that, opinions. The photos contain the actual piece(s) for sale (unless otherwise noted in the title / description). It is our strong recommendation to consider the photos more strongly than considering the description/grade from us and from third parties, use descriptions and stated grades as guides, not gospel.
We strive for positive feedback and across the board 5 star detailed seller ratings. If there was anything less than perfect about your transaction, please let us know so we can fix it and make sure it doesn't happen again.
CONTACT 
For any questions, please send us a message through eBay.
If you are mailing something to us, never make references to coins, jewelry, metals, gems, etc on the outside of the package. Also, ensure that there is no rattle from coins or metals touching each other in the package… pack things tightly together or individually holdered.
MAKING AN OFFER?
Our listings are priced competitively. We are usually the lowest price for all comparable listings, at least when first listed. Some of our listings are set to accept offers. We will entertain reasonable offers on most of our listings, and we are especially motivated for bulk sales containing many items so feel free to send a message with offers.
Haggling is part of the nature of this business, sometimes we can come down and sometimes we can't. We entertain reasonable offers, but we do not tolerate chiselers. If we tell you our "best price" it truly is our best price.
PAYMENTS
Please make payment upon your purchase. Payment can be made by credit card and other methods using eBay's Managed Payments.
SALES TAX
We collect 7% Sales Tax (6% FL Sales Tax and 1% Palm Beach County surtax) from sales to Florida addresses. US coins and currency are exempted. Purchases that exceed $500 total of US and foreign coins and currency and foreign and private minted bullion are also exempt (if you are purchasing several items which total $500 or more but of which several are otherwise subject to sales tax, please send us a message, we will adjust the sales tax setting so you can purchase it in a group without being charged sales tax).
We do not collect sales tax for sales to any other place, however eBay does. After the Wayfair Supreme Court decision, some States have been subjecting their people's purchases from out of state businesses to sales tax. As taxation is literally extortion ("taxation is theft" is a shorter, more alliterative phrase), we do not like this on a moral level. Also, buyers should know that us sellers are probably less happy than even you are because it means at least marginally lower prices to sellers and fewer sales. But we have no control over this.
eBay's Global Shipping Program adds import fees for sales to outside of the USA. We have no control over this.
Note that a buy it now price, auction ending price, or price agreed to in communications between you and us, does not include applicable sales tax which will be added by eBay.
SHIPPING
Domestic US
We do not add additional shipping charges. We ship our sales USPS First Class package, unless a package is too heavy, in which case we will send it USPS Priority. Tracking numbers are automatically uploaded to your purchase history after we create the shipping label. Packages with contents worth around 250 USD or more will require Signature Confirmation.
If you need something expedited, either overnight or 1-3 days, we can usually accommodate this for just the price of the postage. BUT PLEASE SEND US A MESSAGE AND WAIT FOR A RESPONSE BEFORE MAKING YOUR PURCHASE. We will confirm that we're able to get out same day/next day, how much more it will cost you, and when expected delivery is. If you agree to everything, go ahead and purchase it without paying, we'll add the additional shipping charge and send you an invoice which you can then pay.
Foreign
Most items and most countries are eligible for eBay's Global Shipping Program. eBay automatically figures out postage, fees, and import charges, and they collect those directly from you; we have no control over this. We will ship to a facility in Kentucky, USA where they confirm the contents of the package and send it overseas to you.
If you have a friend in the USA or if you have your own address, make sure the eBay purchase is made to a confirmed US address, and we will send it to that address without any postage charge. You can arrange transportation between that address and your international location.
We are no longer offering international options other than eBay's Global Shipping Program, even for items and destinations that aren't eligible for the program. Please don't ask us to print labels other than through eBay, please don't ask us to send directly to your international location, please do not ask us to help you mis-declare the contents or value of the package.
RETURNS  Most of our items have a 30 day return policy. You can return your purchase for any reason, even if you just changed your mind and don't want it. However, unless the piece you received was not as described by the listing, you are responsible for return postage. Your return must be contained in its original holder; a certified numismatic piece must remain in its originally sealed, un-tampered with slab.
As we generally do create very accurate listings, it is not likely that we will cave to a request for a partial refund for you to keep the piece. We will accept the piece(s) back and issue a  refund upon receiving it back. We know many of the underhanded purchaser tactics and we don't accommodate them.
SPECIAL REQUEST
We are always buying and selling and we have an extensive network of connections in the industry. Let us know if you're looking for something we don't have listed. We might have it in the safe or we might otherwise be able to get it to you.
SELL TO US
If you have any coins and metals you want to sell to us or trade against something, send us a message. Depending on the item, we can give you exact quotes, approximate quotes, or quotes conditional on various qualities of the piece. Non-blurry photos help, and you can also mail us single pieces or full collections for a professional, no-obligation evaluation.