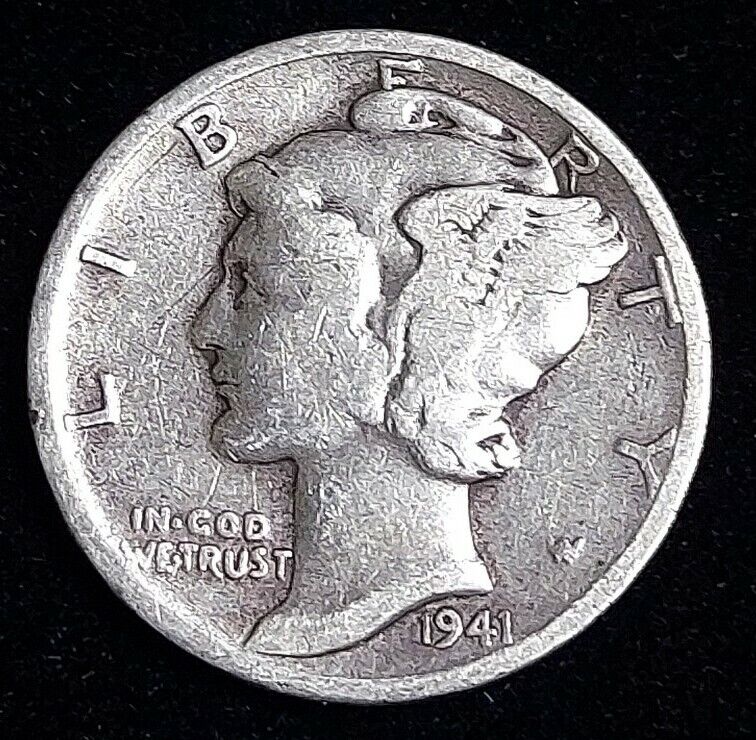 Price: 3.00 USD
Coin Details:
1941 Mercury Dime
1941 Mercury Dime
THANKS FOR STOPPING BY AND CHECKING OUT MY ITEM, I REALLY DO APPRECIATE IT! 
****ALL ITEMS ARE PRE-OWNED IN SOME WAY, THEY HAVE BEEN PURCHASED FROM ESTATE AUCTIONS****
PLEASE LOOK AT THE PHOTOS CLOSELY, IT IS THE EXACT ITEM YOU WILL RECEIVE.  
PLEASE ASK ANY AND ALL QUESTIONS BEFORE PURCHASING, NO QUESTIONS WILL GO UNANSWERED. I WILL RESPOND IN A VERY TIMELY MANNER, MY PHONES ALWAYS WITHIN ARMS REACH. IF I DO NOT RESPOND QUICKLY, IM MOST LIKELY TINKERING ON SOMETHING ELSE REAL QUICK AND IT WONT BE LONG. 
IF YOU WANT ADDITIONAL PHOTOS OF ANY ITEM, PLEASE ASK. I WILL SEND AS MANY AS POSSIBLE TO REMOVE ANY DOUBTS BEFORE PURCHASING ANY ITEM. 
COIN CONDITION: I HAVE NO EDUCATION IN TELLING WHAT A COINS CONDITION IS. I WILL NEVER OFFER MY OPINION ON A COINS CONDITION. ASK FOR MORE PICTURES, USE YOUR OWN OPINION & EXPERIENCE WHEN PURCHASING ANY COINS!
****SHIPPING COST ARE AS FOLLOWS****
UNDER $20 COINS: SHIPPED WITH *EBAY STANDARD ENVELOPE*. PLACED IN 2X2, STAPLED & PLACED IN 2.5 PLASTIC FLIP FOR PROTECTION. I CAN GET UP TO 4 COINS INTO 1 ENVELOPE. INDIVIDUAL COINS SHIP FOR $0.53 EACH. MULTIPLE COINS WILL DEPEND ON WEIGHT. 2 OZ IS $0.73 & 3 OZ IS $0.93. ANY OVER PAYMENT IN SHIPPING WILL BE REFUNDED WHEN ITEM IS PACKAGED AND LABELED. IF YOU ARE ALSO PURCHASING ANY OTHER ITEM OR COIN THAT REQUIRES $4.20 SHIPPING, YOUR ITEMS WILL BE COMBINED AND WILL BE REFUNDED ANY SHIPPING OVER $4.20.  
OVER $20 COINS & CARDS: ALL COINS/CARDS OVER $20 WILL BE MAILED USPS FIRST CLASS W/ TRACKING AT $4.20.
UNDER $20 CARDS: SHIPPED WITH *EBAY STANDARD ENVELOPE. ALL SPORTS CARDS WILL BE PLACED IN PENNY SLEEVE & NORMAL SLEEVE HOLDER FOR PROTECTION. INDIVIDUAL CARDS WILL BE SHIPPED AT $0.53 EACH. MULTIPLE CARD LOTS WILL BE SHIPPED IN BUBBLE MAILER FIRST CLASS WITH TRACKING AT $4.20. THIS IS FOR PROTECTION PURPOSES FOR THE ADDITION OF FOAM WRAPPING. 
JEWELRY & MEDALLIONS: THESE ITEMS WILL NEED CLEANED! SHIPPED USPS FIRST CLASS IN BROWN KRAFT BOX W/ COTTON AND BUBBLE MAILER AT $4.20 NO MATTER HOW MANY YOU BUY. 
ALL OTHER ITEMS: $4.20 ACROSS THE BOARD UNLESS ITS THE BIGGER ITEMS WHICH IS BUMPED UP TO $8.50. I DO COMBINE SHIPPING ON EVERYTHING. IF YOU WANT A ITEM WITH $4.20 SHIPPING AND A ITEM WITH $0.53 SHIPPING, SHIPPING WILL BE COMBINED FOR $4.20 AND ALL ITEMS WILL BE SHIPPED IN BUBBLE MAILER USPS FIRST CLASS MAIL OR BOX IF NEEDED. SAME GOES FOR $8.50 SHIPPING ITEMS. SHIPPING WILL BE $8.50 AND EVERYTHING WILL BE COMBINED & SHIPPED TOGETHER.
PLEASE PLEASE PLEASE CONTACT ME BEFORE BUYING ANYTHING IF SHIPPING DOES NOT LOOK CORRECT. I WILL DO WHATEVER IT TAKES TO GET IT RIGHT ASAP! OBVIOUSLY ITS IMPOSSIBLE TO MAIL LARGE ITEMS IN A $0.53 ENVELOPE. SHIPPING WILL ALWAYS BE THE HIGHER SHIPPING PRICE IF COMBINING SHIPPING.THE FASTER WE GET IT FIGURED OUT THE SOONER IT GETS IN THE MAIL AND ON ITS WAY TO YOU! 
IF ISSUES ARISE WITH YOUR ITEM, PLEASE CONTACT ME!!! I WILL DO EVERYTHING IN MY POWER TO DEAL WITH THE ISSUE. 
AGAIN, THANKS FOR STOPPING BY AND LOOKING AROUND. FEEL FREE TO BROWSE MY STORE FOR NEW DAILY ITEMS. YOU MAY FIND ANOTHER ITEM YOU DIDNT EVEN KNOW YOU WANTED!
IF YOU ARE NOT HAPPY WITH YOUR ITEM, JUST ASK FOR A REFUND PLEASE. NO NEED TO ATTACK ME IN A EMAIL SAYING THE COIN/ITEM IS WORN/DAMAGED AND THAT IM A THIEF. YOU LITERALLY SEE THE COIN/ITEM YOU ARE BUYING AND HAVE THE OPTION TO ASK FOR 1000 PICTURES IF NEEDED BEFORE YOU CLICK ON BUY NOW. THIS IS A CRAZY WORLD WE LIVE IN TODAY AND I JUST ASK FOR A LITTLE CIVILITY WHEN COMMUNICATING WITH EACH OTHER PLEASE. 
UNHAPPY COIN PURCHASE? I WILL ISSUE A 100% REFUND AS SOON AS EXACT COIN IS RETURNED & IN THE EXACT SAME CONDITION IT WAS SOLD. 
*ANY COIN SCAMS WILL BE REPORTED IMMEDIATELY TO MULTIPLE ONLINE COMMUNITIES*