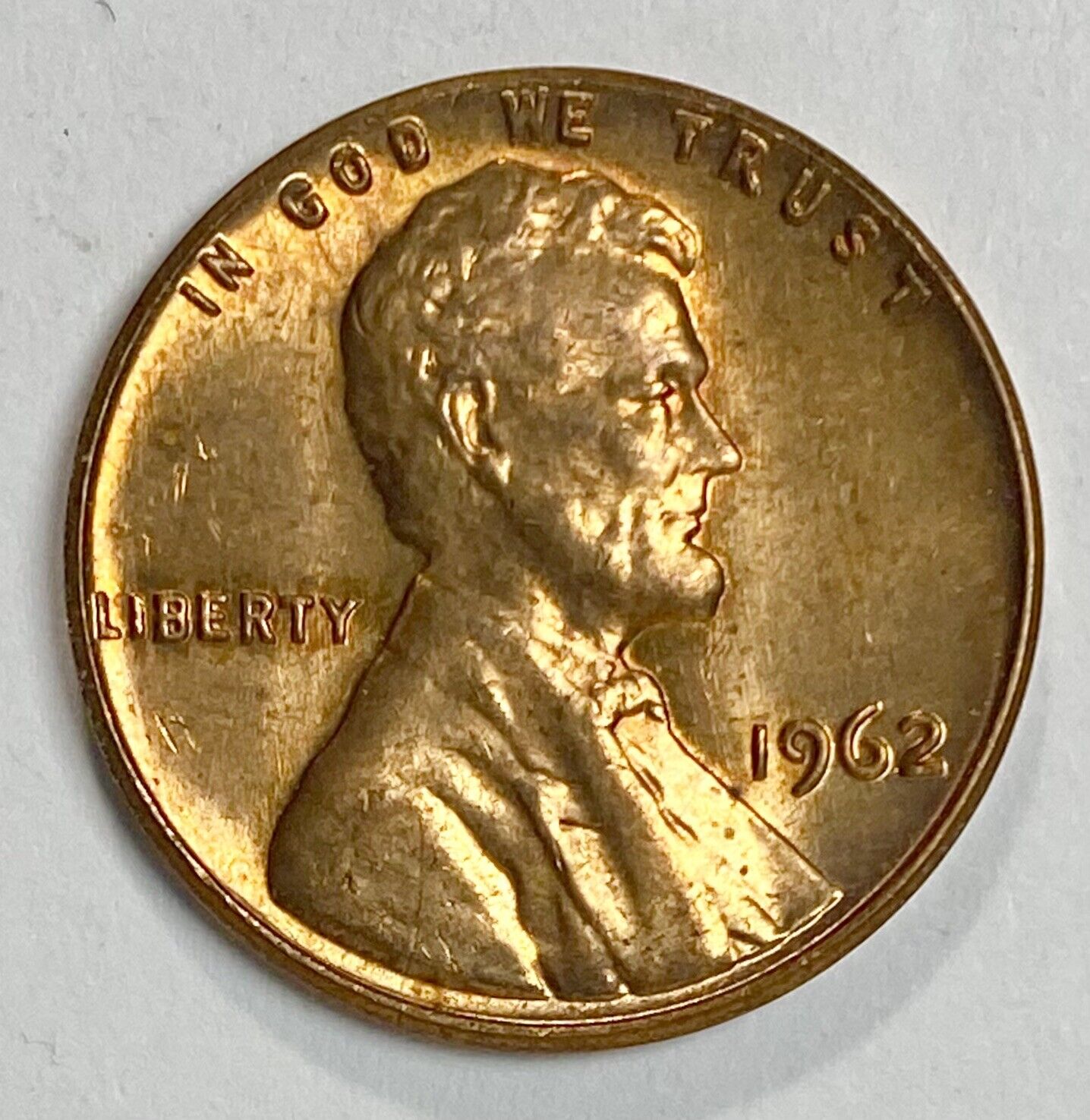 Price: 16.95 USD
Coin Details:
1962 Lincoln Obverse Memorial 1 Cent Double Die Obverse Error Coin 5193
1962 Lincoln Obverse Memorial Reverse 1 Cent
Double Die Obverse Error
Circulated Red Coin
 I've got a lot of collectibles like this and lots of different collectibles in my store.
Please come check it out!!!
1962 1¢  "Best Of" Variety

Description:  A strong Class II spread towards the rim shows on the date and the letters of TRUST.

Die Markers:  Obverse:  EDS.  None significant.  Reverse:  A die gouge can be found on the roof north of the 3rd Memorial column.
Cross References:  CONECA: 7-O-II
Features
| | |
| --- | --- |
| Country | United States  |
| Type | Standard circulation coin |
| Years | 1959-1982 |
| Value | 1 Cent (0.01 USD) |
| Currency | Dollar (1785-date) |
| Composition | Bronze (Cu 95%, Zn or Sn) |
| Weight | 3.11 g |
| Diameter | 19 mm |
| Thickness | 1.30 mm |
| Shape | Round |
| Orientation | Coin alignment ↑↓ |
| | |
Obverse
The portrait in right profile of Abraham Lincoln, the 16th President of the United States from 1861 to 1865, is accompanied with the lettering "LIBERTY" and the motto "IN GOD WE TRUST"
NOTE: Cents dated 1968-1974 bearing an "S" mintmark are most likely not proofs. The San Francisco Mint struck this coin for circulation as well as all proofs for this type. "S" cents dated 1975 and later are always proofs.
Lettering:
IN GOD WE TRUST
1962
D
Engraver: Victor David Brenner 
Reverse
The Lincoln Memorial is surrounded with the face value in full, the lettering : "UNITED STATES OF AMERICA" and the motto : "E • PLURIBUS • UNUM •"
Lettering:
UNITED STATES OF AMERICA
E • PLURIBUS
• UNUM •
FG
ONE CENT
Engraver: Frank Gasparro 
Edge
Smooth
The Lincoln cent (or sometimes called Lincoln penny) is a one-cent coin that has been struck by the United States Mint since 1909. The obverse or heads side was designed by Victor David Brenner, as was the original reverse. The coin has seen several reverse, or tails, designs and now bears one by Lyndall Bass depicting a Union shield. All coins struck by the United States government with a value of 1/100 of a dollar are called cents because the United States has always minted coins using decimals. The penny nickname is a carryover from the coins struck in England, which went to decimals for coins in 1971.
In 1905, sculptor Augustus Saint-Gaudens was hired by the Mint to redesign the cent and the four gold coins, which did not require congressional approval. Two of Saint-Gaudens's proposed designs for the cent were eventually adapted for the gold pieces, but Saint-Gaudens died in August 1907 before submitting additional designs for the cent. In January 1909, the Mint engaged Brenner to design a cent depicting the late president Abraham Lincoln, 1909 being the centennial year of his birth. It was the first widely circulating design of a U.S. president on a coin, an idea that had been seen as too monarchical in the past, namely by George Washington. Nevertheless, Brenner's design was eventually approved, and the new coins were issued to great public interest on August 2, 1909.
Brenner's initials (VDB), on the reverse at its base, were deemed too prominent once the coins were issued, and were removed within days of the release. The initials were restored, this time smaller, on Lincoln's shoulder, in 1918. Originally struck in 95% copper, the cent coin was changed for one year to steel in 1943 as copper was needed to aid in the war effort. The mint then reverted to 95% copper until 1982, when inflation made copper too expensive and the composition was changed to zinc with an outer copper layer. Brenner's reverse was replaced in 1959 by a depiction of the Lincoln Memorial designed by Frank Gasparro, for the sesquicentennial of his birth year. The Lincoln Memorial reverse was itself replaced in 2009 by four commemorative designs marking the bicentennial of Lincoln's birth. Beginning in 2010, Bass's shield design was coined.