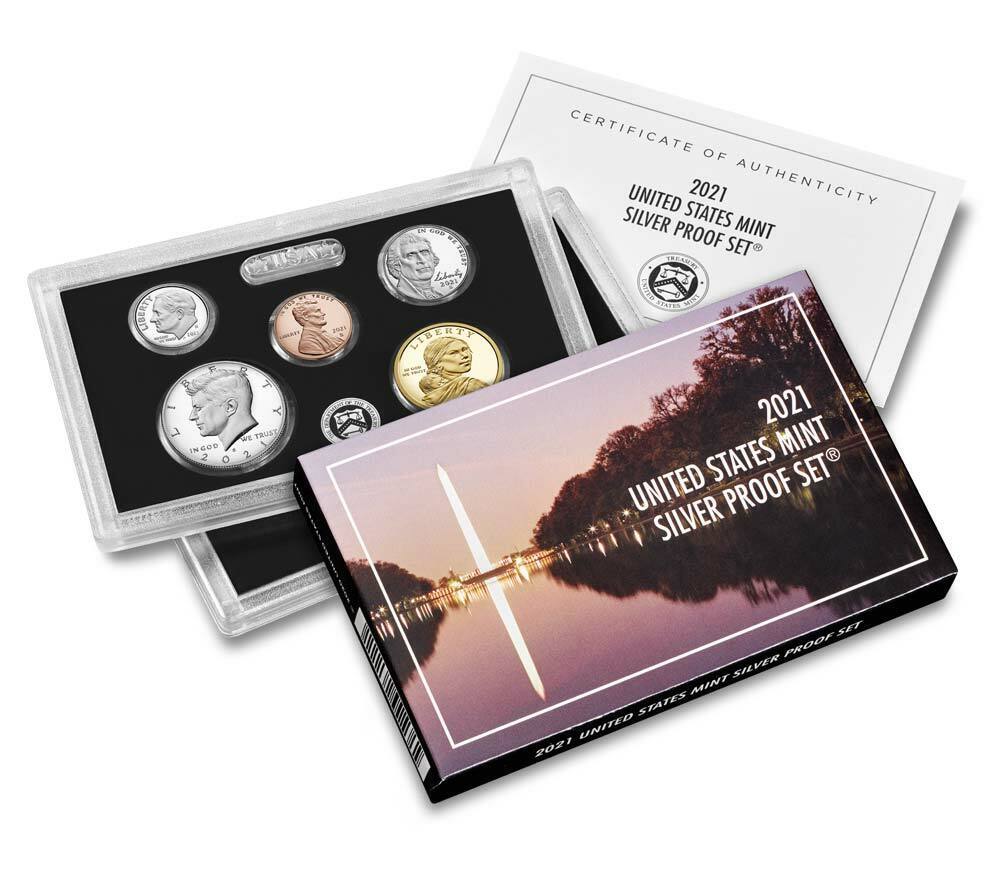 Price: 116.95 USD
Coin Details:
2021-S Silver Proof Set US Mint (21RH)
The 2021 United States Mint Silver Proof Set features 7 proof coins encased in two clear plastic lenses in a beautifully designed package you'll be proud to display. The quarters, dime, and half dollar are struck in 99.9 percent silver. The 2021 Silver Proof Set is a great addition to any collection.
The 2021 United States Mint Silver Proof Set includes the following coins:
The final quarter in the America the Beautiful Quarters® Program series honoring the Tuskegee Airmen National Historic Site in Alabama. The reverse design depicts a Tuskegee Airman pilot suiting up to join the fight during World War II with the Moton Field control tower in the background. The pilot looks upward with pride and confidence as two P- 51 Mustangs pass overhead. The inscription "THEY FOUGHT TWO WARS" is arced across the top as a reference to the dual battles the Tuskegee Airmen fought – fascism abroad and racial discrimination at home. Inscriptions are "TUSKEGEE AIRMEN," "ALABAMA," "2021," and "E PLURIBUS UNUM."
One General George Washington Crossing the Delaware Quarter featuring an obverse (heads) design that marks a return to the familiar depiction of George Washington by John Flanagan as it appeared on the quarter from 1932 to 1998. The image was modified for the 50 State Quarters, the DC and U.S. Territories Quarters, and the America the Beautiful Quarters Programs. In this revived depiction, Washington's portrait is larger and with higher relief. Inscriptions are "LIBERTY," "IN GOD WE TRUST," and "2021." The reverse (tails) design features General George Washington commanding his troops through the overnight crossing of the ice-choked Delaware River prior to the Battle of Trenton during the American Revolutionary War. Inscriptions are "UNITED STATES OF AMERICA," "E PLURIBUS UNUM," "CROSSING THE DELAWARE," and "QUARTER DOLLAR."
One Native American $1 Coin with the latest reverse (tails) design in the series. The 2021 design honors Native American military service. This reverse design features two eagle feathers, which were traditionally earned in battle or by performing a brave deed. Eagle feathers are revered, receiving the utmost care and handling, and are to be displayed proudly in homes. Stars representing five branches of the U.S. Military are in the foreground. A circle, a symbol with deep meaning to Native Americans, connects all the elements. Inscriptions include "NATIVE AMERICANS – DISTINGUISHED MILITARY SERVICE SINCE 1775," "$1," and "UNITED STATES OF AMERICA."
The Set is accompanied by a Certificate of Authenticity.
The 2021 United States Mint Silver Proof Set is a must-have for any collection. This unique and intriguing set makes a great gift for all ages and occasions—one sure to make anyone smile.