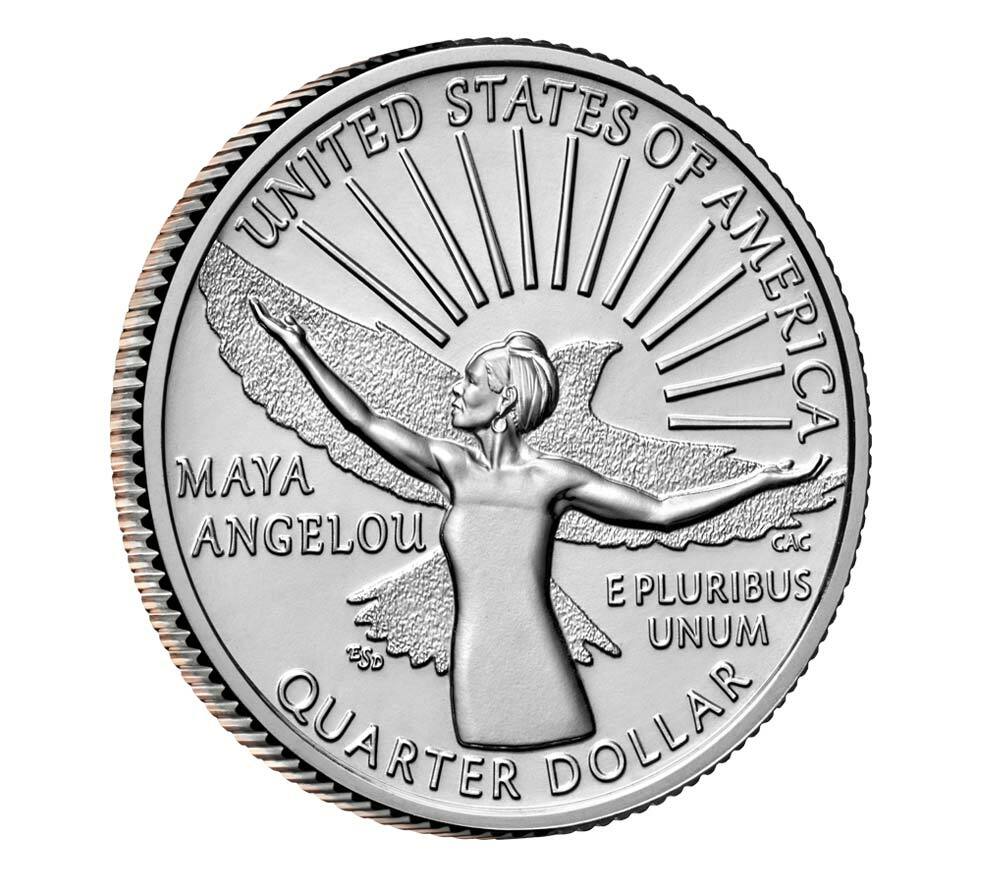 Price: 2.95 USD
Coin Details:
2022 American Women Quarters Maya Angelou PDS (3 coins) presale from mint roll
This listing is for three (3) coins, one from each of the following mints (Philadelphia, Denver, and San Francisco).  Plan to ship mid February based on when I receive my shipment from the Mint.
The American Women Quarters™ Program is a four-year series celebrating the accomplishments and contributions made by women to the development and history of the U.S. Beginning in 2022, and continuing through 2025, the Mint will issue five new quarters each year featuring reverse designs honoring a group of prominent American women.
The new quarters will honor a diverse group of notable American women who made significant contributions in a variety of fields, including suffrage, civil rights, abolition, government, humanities, science, space, and the arts. The women honored are from ethnically, racially, and geographically diverse backgrounds.
Maya Angelou is featured on the first coin of this program, minted and issued in 2022.
Maya Angelou was a writer, poet, performer, social activist, and teacher who rose to international prominence as an author after the publication of her groundbreaking autobiography "I Know Why the Caged Bird Sings."
A few of her many accomplishments include:
Reading of "On the Pulse of Morning" at President Clinton's 1992 inauguration, which marked the first time an African American woman presented her own work at this event
A remarkable career which encompasses dance, theater, journalism, and social activism
Awarded the Presidential Medal of Freedom by President Obama in 2010
Received more than 30 honorary degrees
Inducted into the Wake Forest University Hall of Fame for Writers
The reverse (tails) design depicts Maya Angelou with her arms uplifted. Behind her are a bird in flight and a rising sun, images inspired by her poetry and symbolic of the way she lived. The silhouette of the bird depicts a Purple Martin, a songbird common to Angelou's birthplace. Inscriptions are "UNITED STATES OF AMERICA," "QUARTER DOLLAR," "MAYA ANGELOU," and "E PLURIBUS UNUM."
The common obverse (heads) depicts a portrait of George Washington. This design was originally composed and sculpted by Laura Gardin Fraser as a candidate entry for the 1932 quarter, which honored the bicentennial of George Washington's birth. Inscriptions are "LIBERTY," "IN GOD WE TRUST," and "2022."
Honor the courageous steps and accomplishments of women who have created positive change. We invite you to start your collection of the new American Women Quarters!
Information and images from US Mint